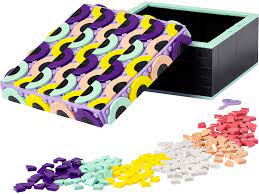 LEGO Dots Big Box Arts and Crafts Set 41960
Sale price
$32.99
Regular price
Tax included.
Christmas Delivery Cut Off Dates
Metropolitan Areas excluding Perth and Darwin
- 17th December
Perth
- 14th December
Darwin
- 13th December
Any Regional area
- 13th December
NOTE:
that we will be providing next day delivery for $20 from the 18th until 23rd of December in Metro Melbourne area!
Read More
We strive to pack and ship all orders within one business day from the date of purchase.

Please note that orders placed on weekends or public holidays will be processed on the following business day.

Once shipped, the estimated time of delivery within Australia is typically between 2 to 5 business days.
Address
510 Macaulay Rd,
Kensington VIC 3031
Opening Hours
Monday: Closed
Tuesday: Closed
Wednesday: 11:00 am - 5:00 pm
Thursday: 11:00 am - 5:00 pm
Friday: 11:00 am - 5:00 pm
Saturday: 10:00 am - 4:00 pm
Sunday: 11:00 am - 4:00 pm
Pre-owned but confirmed BRAND NEW IN SEALED BOX.
Looking for a fun, useful arts-and-crafts gift for ages 6 and up? Make any kid or crafts fan happy with this creative LEGO® DOTS Big Box (41960) kit! The set features a large black box and a removable lid, plus lots of bright neon-colored and toned-down pastel tiles for decorating. Assembly is an easy and intuitive process. Kids can put the box and lid together and then create endless designs on the top and sides of the lid to make it uniquely theirs. When they're done decorating, they can store their treasures safely inside, add the lid and show off their stylish designs.

Creative DIY storage
DOTS sets introduce kids to the joy of LEGO play and creativity as they make and decorate the different sets. Anything goes with this clever storage box because the magic and control lie in a child's imagination. DOTS sets are packed with possibilities to inspire imaginative play for creative kids.
Make it, design it, use it – Surprise any kid or arts-and-crafts fan with this LEGO® DOTS Big Box (41960) craft kit. The creative fun begins when they open the package and start making the box
Endless design possibilities – Kids can boost their imagination and creative skills as they play with a kit featuring a box and a removable, design-ready, black lid, plus neon and pastel tiles
Creativity in a kit – This set works on its own for quick, imaginative originality. Kids can also use anyof the LEGO® DOTS Extra DOTS bags or boxes (sold separately) to expand their designs
Arts-and-crafts treat for ages 6+ – Any creative DIY fan will love this customizable kit. The storage box, removable lid and colorful tiles will make a fun gift for kids with a passion for crafts
Room for treasures – the box measures over 5.5 in. (14 cm) square and over 2.5 in. (7 cm) high, so there's lots of storage space inside and room on the lid for kids to get creative.
LEGO Dots Big Box Arts and Crafts Set 41960
Sale price
$32.99
Regular price